South Charleston, West Virginia, August 3, 2023 – GreenPower Motor Company Inc. (NASDAQ: GP) (TSXV: GPV) ("GreenPower"), a leading manufacturer and distributor of purpose-built, all-electric, zero-emission medium and heavy-duty vehicles serving the cargo and delivery market, shuttle and transit space and school bus sector, today announced the appointment of Kingmor Supply, Inc. ("Kingmor") as its dealer for all-electric school buses in the Commonwealth of Virginia.
"Every day nearly one million students in Virginia are transported to and from school, field trips, athletic events and other school-related activities on more than 16,000 school buses operated by the commonwealth's school districts," said Michael Perez, GreenPower's Vice President of School Bus, Contracts and Grants. "We are excited to partner with Kingmor so that GreenPower's all-electric, purpose-built, zero-emission Type D BEAST and Type A Nano BEAST school buses are available for these school districts and kids."
Kingmor is a family-run business that has been offering services in the bus business for 43 years. With three locations in the commonwealth – Mount Crawford (Central), Manassas (Northern) and Hampton (Tidewater) – Kingmor offers a full line of parts and service products as well as road and on-site services. It is a dealer for the largest manufacturer of buses in North America providing Type A, C, D, and commercial, diesel, gas, propane, and electric buses. Kingmor is aligned with 13 servicing facilities in the commonwealth making it the premiere dealer in Virginia.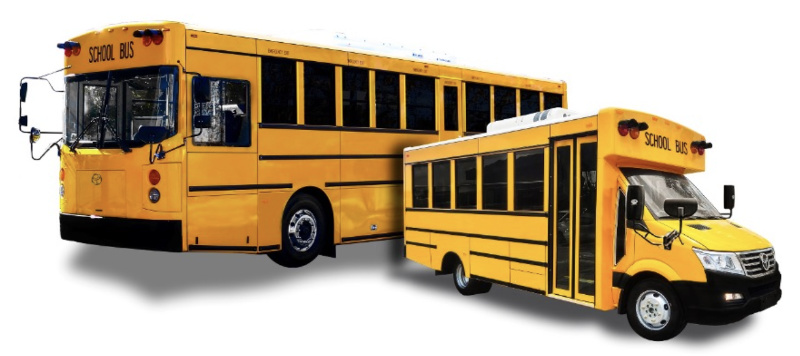 "Partnering with GreenPower for the Type A Nano BEAST and the Type D BEAST will round out Kingmor's offerings across the entire line of diversified needs of the transportation community," said Floyd Morris, President of Kingmor. "GreenPower adds to our commitment to be the best, sell top notch products, deliver in a timely manner, offer the best-in-class service after the sell and, most of all, employ great people to provide all customers rather large or small with the same top level of services."
GreenPower's BEAST is a purpose-built, 40-foot Type D all-electric, zero-emission school bus with seating for up to 90 passengers. Designed from the ground up as an all-electric vehicle, the BEAST features an integrated chassis with an all-aluminum body, allowing for pass-through storage underneath the bus. The dual port charging is standard, with Level 2 rates up to 19.2 kW and DC Fast Charging rates up to 85 kW, with wireless charging is also available as an option.
The School Transportation News award-winning Nano BEAST as a standard 118kwh battery pack and a range of up to 150 miles. Configured for up to 18 passengers with one wheelchair position and 14 passengers with two wheelchair positions, the Nano BEAST features the industry-leading BraunAbility wheelchair lift and the preferred Q'Straint wheelchair securement system.
Contacts
Michael Perez
VP of School Bus, Contracts and Grants
michael@greenpowermotor.com
Allie Potter
Skyya PR for GreenPower
(218) 766-8856
allie@skyya.com
About GreenPower Motor Company Inc.
GreenPower designs, builds and distributes a full suite of high-floor and low-floor all-electric medium and heavy-duty vehicles, including transit buses, school buses, shuttles, cargo van and a cab and chassis. GreenPower employs a clean-sheet design to manufacture all-electric vehicles that are purpose built to be battery powered with zero emissions while integrating global suppliers for key components. This OEM platform allows GreenPower to meet the specifications of various operators while providing standard parts for ease of maintenance and accessibility for warranty requirements. GreenPower was founded in Vancouver, Canada with primary operational facilities in southern California. Listed on the Toronto exchange since November 2015, GreenPower completed its U.S. IPO and NASDAQ listing in August 2020. For further information go to www.greenpowermotor.com.
Forward-Looking Statements
This document contains forward-looking statements relating to, among other things, GreenPower's business and operations and the environment in which it operates, which are based on GreenPower's operations, estimates, forecasts and projections. Forward-looking statements are not based on historical facts, but rather on current expectations and projections about future events, and are therefore subject to risks and uncertainties which could cause actual results to differ materially from the future results expressed or implied by the forward-looking statements. These statements generally can be identified by the use of forward-looking words such as "upon", "may", "should", "will", "could", "intend", "estimate", "plan", "anticipate", "expect", "believe" or "continue", or the negative thereof or similar variations. These statements are not guarantees of future performance and involve risks and uncertainties that are difficult to predict. A number of important factors including those set forth in other public filings (filed under the Company's profile on www.sedar.com) could cause actual outcomes and results to differ materially from those expressed in these forward-looking statements. Consequently, readers should not place any undue reliance on such forward-looking statements. In addition, these forward-looking statements relate to the date on which they are made. GreenPower disclaims any intention or obligation to update or revise any forward-looking statements whether as a result of new information, future events or otherwise.
Neither the TSX Venture Exchange nor its Regulation Services Provider (as that term is defined in the policies of the TSX Venture Exchange) accepts responsibility for the adequacy or accuracy of this release. All amounts are in U.S. Dollars ©2023 GreenPower Motor Company Inc. All rights reserved.